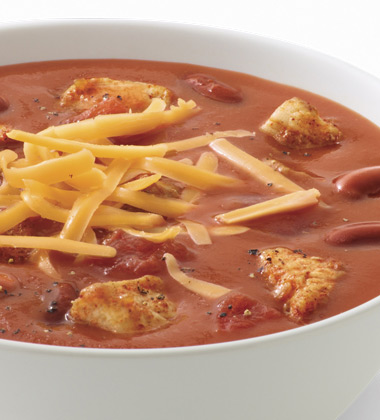 Nutrition Facts
Serving Size
1 SERVING (10 FL OZ SERVED IN A 12 FL OZ BOWL)
Amount Per Serving
% Daily Value
Child Nutritional Content
mma: 2.0oz
grain: 1.0oz
totalVegetable: 0.625c
darkGreen: 0.0c
redOrange: 0.5c
legumes: 0.125c
starchy: 0.0c
other: 0.0c
additional: 0.0c
fruit: 0.0c
milk: 0.0c
Try our Southwest Cheesy Chicken Tomato Soup made with Campbell's® Healthy Request® Condensed Tomato Soup.  Served with tortilla chips for crunch, this cheesy twist on tomato soup is packed with flavor!
Recipe Yields:
NOTE: Use your professional judgement when resizing recipes. Seasoning, cooking times, etc, may require adjustment.
estimate your profit
Enter the cost of the soup and any garnishing costs to get the cost per bowl of soup.
Enter the selling price per bowl and your profit for each bowl is calculated based on Step 1.
Enter the number of bowls you typically serve each day and how many days per week you are open (or serve this soup). Profits will be calculated using your numbers from Steps 1 and 2.
| | | |
| --- | --- | --- |
| Ingredients | Weight | Measure |
water

150

oz.

3

cans

cooked diced chicken

75

oz.

salt free Mexican seasoning blend

3

oz.

no salt added diced tomatoes

52

oz.

low sodium kidney beans

56

oz.

reduced fat Cheddar cheese

25

oz.

green onion

0.5

oz.

yellow corn tortilla chips

50

oz.
1. Prepare Campbell's Healthy Request Tomato Soup according to label directions. CCP: Heat to 145°F. CCP: Hold for hot service at 140°F.
2. Combine chicken and seasoning blend. Place in serving pans. CCP: Cover pans and heat to 165°F. CCP: Hold for hot service at 140°F.
3. Place the tomatoes and beans into separate serving pans. Cover pans and heat in a steamer or oven. CCP: Heat to 145°F. CCP: Hold for hot service at 140°F.
4. For each serving, portion the following foods/amounts into each serving bowl:

1 1/2 oz (3 1/3 tbsp or #20 scoop) cooked chicken
2 tbsp (#30 scoop) heated tomatoes
2 tbsp (#30 scoop) heated beans
6 fl oz ladle prepared Campbell's Healthy Request Tomato Soup
5. Top with 1/2 oz (2 tbsp or #30 scoop) cheese and a pinch of green onion.

6. Serve immediately with 1 oz tortilla shell rounds on the side.
Recipe Tip
For spicer flavor, add cayene pepper to the prepared soup in Step 1.
Meal Contributions: Meat/Meat Alternate - 2 oz; Grain - 1 oz; Vegetable - 5/8 cup TOTAL 1/2 cup red/orange + 1/8 cup legumes)