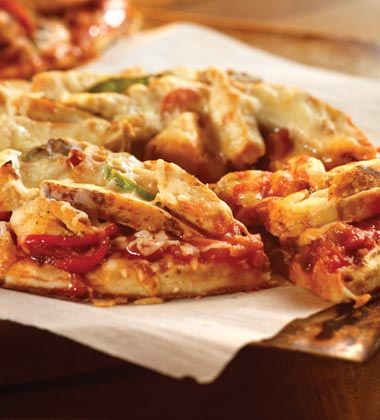 Nutrition Facts
Serving Size
1 SERIVNG (1/2 PIZZA- 3 SLICES)
Amount Per Serving
% Daily Value
Take an always-popular pizza and top it with vegetables, Salsa, chicken strips, fajita seasonings and bake it topped with jack cheese and who wouldn't order it.
Recipe Yields:
NOTE: Use your professional judgement when resizing recipes. Seasoning, cooking times, etc, may require adjustment.
estimate your profit
Enter the cost of the soup and any garnishing costs to get the cost per bowl of soup.
Enter the selling price per bowl and your profit for each bowl is calculated based on Step 1.
Enter the number of bowls you typically serve each day and how many days per week you are open (or serve this soup). Profits will be calculated using your numbers from Steps 1 and 2.
| | | |
| --- | --- | --- |
| Ingredients | Weight | Measure |
canola oil

3

tbsp.

Vidalia onion

2.5

lb.

2

qt.

assorted bell peppers (green, red, yellow)

2.5

lb.

2

qt.

garlic

0 1/4

cups

chili powder

1

tbsp.

fajita seasoning

1

tbsp.

sheeted pizza dough round, 7 inch

57

oz.

12

ea.

unseasoned chicken strips, cooked, frozen

4.5

lb.

reduced fat Monterey Jack cheese

1.5

lb.

1 1/2

qt.
1. In large skillet, heat oil over medium-high heat. Add onion and sauté 5-6 minutes, or until onions start to take on brown color.

2. Stir in peppers and garlic. Continue cooking, stirring often, for 5 minutes or until dry.

3. Sprinkle in seasonings. Continue to cook 1-2 minutes, stirring often. Remove from heat and cool to room temperature.

CCP: May be served hot at 140°F. or higher, or chilled to 40°F. or lower.
4. Place pizza dough rounds onto sheetpans and pre-bake in 400°F. convection or 450°F. conventional oven until very light golden brown, or about 6 minutes. Remove pizza crusts from heat.

5. To assemble, top each pizza evenly with the following:
4 oz./1/2 cup Pace® Chunky Salsa
¾ cup reserved sautéed vegetable mixture
6 oz. chicken strips
½ cup cheese
6. Return pizzas to oven. Continue baking 12-15 minutes, or until crust is golden brown and cheese is bubbling. Remove from heat.

CCP: Heat to a minimum internal temperature of 165°F for 1 minute.

CCP: Hold for hot service at 140°F or higher until needed.

7. To Serve: Halve each pizza. Cut each half into 3 slices.  Serve immediately.

*1 Serving: 1/2 pizza (3 slices)