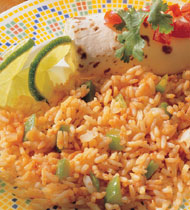 Nutrition Facts
Amount Per Serving
% Daily Value
Campbell's® Healthy Request® Condensed Tomato Soup and Swanson® Chicken Broth combine with onions, green peppers, garlic, and red pepper to make this perfect rice side dish.
Recipe Yields:
NOTE: Use your professional judgement when resizing recipes. Seasoning, cooking times, etc, may require adjustment.
estimate your profit
Enter the cost of the soup and any garnishing costs to get the cost per bowl of soup.
Enter the selling price per bowl and your profit for each bowl is calculated based on Step 1.
Enter the number of bowls you typically serve each day and how many days per week you are open (or serve this soup). Profits will be calculated using your numbers from Steps 1 and 2.
| | | |
| --- | --- | --- |
| Ingredients | Weight | Measure |
long grain white rice

6.75

lb.

onion

1.5

lb.

1 1/2

qt.

green pepper

1

qt.

water

1

gallons

garlic

0 1/4

cups

ground red pepper

2

tbsp.
1. In each of three baking pans (12x20x2) evenly divide rice, onions and green peppers.
2. Mix soup, broth, water, garlic and red pepper. Pour 3 quarts soup mixture into each pan. Cover.

3. Bake at 350º F. CCP: Bake until internal temperature is 165º F. or higher for 15 seconds, about 1 hour. Uncover. Bake 15 minutes more or until rice is tender and most of liquid is absorbed.

4. CCP: Hold at 140º F. or higher. Portion using No. 8 scoop (1/2 cup).
Recipe Tip
This recipe meets Partnership for a Healthier criteria for overall cafeteria and general menu offerings (a la carte side dishes).