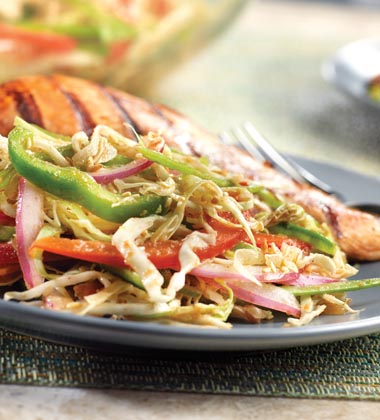 Nutrition Facts
Amount Per Serving
% Daily Value
Child Nutritional Content
mma: 0.0oz
grain: 0.0oz
totalVegetable: 0.5c
darkGreen: 0.0c
redOrange: 0.0c
legumes: 0.0c
starchy: 0.0c
other: 0.5c
additional: 0.0c
fruit: 0.0c
milk: 0.0c
This crisp, spicy slaw uses Picante Sauce in the dressing base along with whitebalsamic vinegar tossed with cabbage, onion, peppers, snow peas and chilies.
Recipe Yields:
NOTE: Use your professional judgement when resizing recipes. Seasoning, cooking times, etc, may require adjustment.
estimate your profit
Enter the cost of the soup and any garnishing costs to get the cost per bowl of soup.
Enter the selling price per bowl and your profit for each bowl is calculated based on Step 1.
Enter the number of bowls you typically serve each day and how many days per week you are open (or serve this soup). Profits will be calculated using your numbers from Steps 1 and 2.
| | | |
| --- | --- | --- |
| Ingredients | Weight | Measure |
white balsamic vinegar

0 1/2

cups

peanut oil

0 1/2

cups

sesame seeds

2.5

oz.

0 1/2

cups

cumin

1 1/2

tbsp.

ground coriander

1 1/2

tsp.

salt

1 1/2

tsp.

black pepper

1

tsp.

green cabbage

2

lb.

2

qt.

green and red bell pepper

2

lb.

1 1/2

qt.

snow peas

2

cups

red onion

10

oz.

2

cups

seeded anaheim pepper

0 1/4

cups
1. In a bowl whisk together ingredients; cover and hold.
2. In a large bowl toss together: cabbage, peppers, onion and snow peas; toss well to mix.

3. Stir in salsa-balsamic dressing and toss to coat well. Adjust seasonings. Cover.

CCP: Refrigerate below 40°F. at least 2 hours before using as directed.

4. To Serve: Using a #8 scoop, portion 1/2 cup into bowl or condiment container.
Recipe Tip
 Serve as a side salad to accompany any grilled dish, sandwich, wrap or burger.