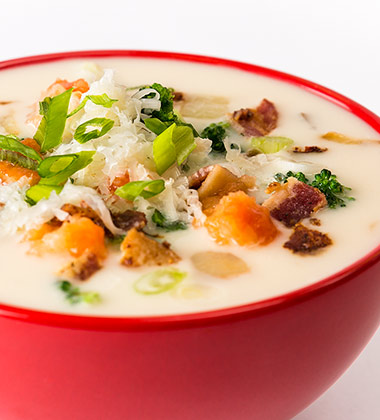 Nutrition Facts
Serving Size
10 FL OZ (SERVED IN 12 FL OZ BOWL)
Amount Per Serving
% Daily Value
Child Nutritional Content
mma: 1.0oz
grain: 0.0oz
totalVegetable: 0.625c
darkGreen: 0.125c
redOrange: 0.0c
legumes: 0.0c
starchy: 0.125c
other: 0.125c
additional: 0.125c
fruit: 0.0c
milk: 0.0c
Transform a loaded baked potato into a hearty soup with Campbell's® Condensed Cream of Potato Soup .  Topped with broccoli, onions, bacon, green onions and white cheddar cheese, this creamy soup will add variety to any menu.
Recipe Yields:
NOTE: Use your professional judgement when resizing recipes. Seasoning, cooking times, etc, may require adjustment.
estimate your profit
Enter the cost of the soup and any garnishing costs to get the cost per bowl of soup.
Enter the selling price per bowl and your profit for each bowl is calculated based on Step 1.
Enter the number of bowls you typically serve each day and how many days per week you are open (or serve this soup). Profits will be calculated using your numbers from Steps 1 and 2.
| | | |
| --- | --- | --- |
| Ingredients | Weight | Measure |
water

150

oz.

3

cans

potato

36

oz.

frozen broccoli florets

50

oz.

onion

45

oz.

2

qt.

bacon

30

oz.

hot pepper sauce

4

oz.

white Cheddar cheese

25

oz.

green onion

25

oz.
1. Prepare Campbell's Condensed Cream of Potato Soup according to label directions.
2. Cook potatoes, drain and toss with hot sauce. Hold hot.
3. Sauté onions. Hold hot. Heat bacon.
For each serving:
Place in 12 oz. bowl:
1 oz. potatoes
1 oz. broccoli
1 oz. onions
½ oz. bacon

4.  Add 6 oz. prepared Campbell's Healthy Request Cream of Potato Soup. 

CCP: Ensure final cook step reaches a minimun internal temperature of 165°F for one minute.
 
5.  Top with ½ oz. cheese and ½ oz. scallions and serve immediately.

CCP: Hold for hot service at 140°F.