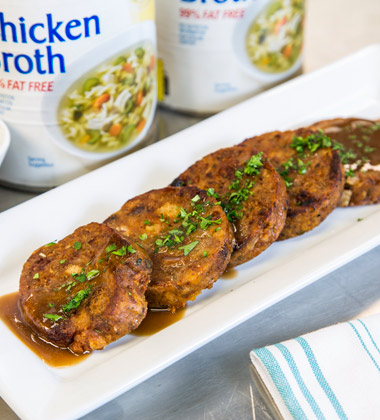 Nutrition Facts
Serving Size
1 EACH (1 ROULADE)
Amount Per Serving
% Daily Value
Total Carbohydrate
224.4g
75%
A spin on a classic stuffing made with Pepperidge Farm Herb Stuffing and Swanson Chicken Broth.  For a video demonstration please click here
Recipe Yields:
NOTE: Use your professional judgement when resizing recipes. Seasoning, cooking times, etc, may require adjustment.
estimate your profit
Enter the cost of the soup and any garnishing costs to get the cost per bowl of soup.
Enter the selling price per bowl and your profit for each bowl is calculated based on Step 1.
Enter the number of bowls you typically serve each day and how many days per week you are open (or serve this soup). Profits will be calculated using your numbers from Steps 1 and 2.
| | | |
| --- | --- | --- |
| Ingredients | Weight | Measure |
egg

7

ea.

Cheddar cheese

2

cups

dried cherries

3

cups

onion

3

cups

fresh rosemary leaves

2

tbsp.

fresh thyme leaves

2

tbsp.

fresh parsley

3

tbsp.

fresh sage leaves

2

tbsp.

cumin

1

tbsp.

ground coriander

1

tbsp.

paprika

1

tbsp.

vegetable oil
1. Place the dry stuffing into a big bowl and pour over the warm (not hot or boiling) chicken broth and stir well.

2. Place the eggs in a small bowl and whisk well to combine. Pour over the stuffing and mix well.

3. Add the cheese, cherries, onions, herbs and spices and mix well.

4. Take a piece of plastic wrap and place on the counter, completely flat. Take about 3 cups of stuffing mixture and place on wrap. Now wrap it up like a burrito and tighten the ends like a Tootsie Roll.

5. Place a piece of foil down as in Step 4. Place the stuffing and plastic inside, roll up and tighten as in Step 4. Repeat until you use all the stuffing up.

6. Place a big pot of water on the stove with warm water. Place the roulades inside and weigh them down until completely submerged. Bring the water to a low simmer at 190 degrees. Poach for 45 to 60 minutes.

7. When done, carefully take out and place in refrigerator until completely cool (at least 6 hours.

8. When cool, take out and carefully unwrap both layers.

9. Slice to the desired thickness.
10. Add oil to pan and sauté roulade slices until brown on each side.
11. Serve warm.