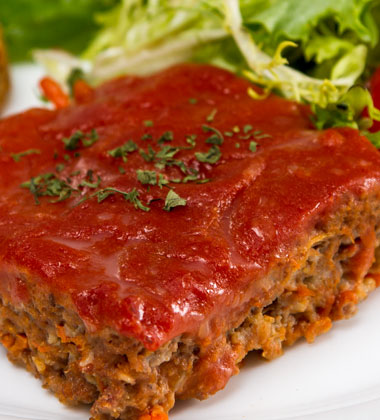 Nutrition Facts
Serving Size
1 SLICE (¾" THICK, 1/25 PAN)
Amount Per Serving
% Daily Value
Child Nutritional Content
mma: 2.0oz
grain: 0.0oz
totalVegetable: 0.5c
darkGreen: 0.0c
redOrange: 0.5c
legumes: 0.0c
starchy: 0.0c
other: 0.0c
additional: 0.0c
fruit: 0.0c
milk: 0.0c
Try our mouthwatering Sweet N' Savory Meatloaf recipe made with Campbell's® Healthy Request® Condensed Tomato Soup.  This twist on a classic dish is the perfect entre for any menu!
Recipe Yields:
NOTE: Use your professional judgement when resizing recipes. Seasoning, cooking times, etc, may require adjustment.
estimate your profit
Enter the cost of the soup and any garnishing costs to get the cost per bowl of soup.
Enter the selling price per bowl and your profit for each bowl is calculated based on Step 1.
Enter the number of bowls you typically serve each day and how many days per week you are open (or serve this soup). Profits will be calculated using your numbers from Steps 1 and 2.
| | | |
| --- | --- | --- |
| Ingredients | Weight | Measure |
85% lean ground beef

126

oz.

frozen liquid egg

8

oz.

1

cups

rolled oats

14.5

oz.

5

cups

carrot

54

oz.

10

cups

minced onion

0 333/1000

cups

salt

1

tbsp.

granulated garlic

1

tbsp.

black pepper

1

tbsp.

Italian seasoning

1

tbsp.

light brown sugar

0 1/2

cups

lemon juice

0 1/2

cups

canola oil

0 1/2

cups

Worcestershire sauce

0 1/4

cups

mustard

0 1/4

cups

granulated garlic

1 1/2

tbsp.

black pepper

1

tbsp.
To Prepare Meatloaf:

1. Place ground beef, eggs, oats, carrots, onions, garlic, pepper, and Italian seasoning in a mixing bowl or pan.

2. Add 1 qt. of condensed soup. Mix well to combine. Reserve remaining soup for later steps.

3. Place mixture into steam table pan (12" x 20"x 2 ½"). For 50 portions, use 1 pan. Divide the mixture in each pan in half, and form into 2 equal sized loaves.

4. Spread 1 cup + 2 tablespoons condensed soup over the top of each loaf. Bake: Conventional oven at 350 °F for 1 ½ hours OR convection oven at  275 °F for 1 ¼ hours.

CCP: Heat to 155 °F or higher for at least 15 seconds.

5. Drain fat from pans. Let meatloaf rest for 20 minutes.

6. Slice each loaf into 25 slices, approximately ¾" thick.

7. Place cut slices in serving pans.

CCP: Hold for hot service at 140°F or higher until needed.
To Prepare Sauce:(while meatloaf is baking):

1. Combine the remaining condensed soup,brown sugar, lemon juice, oil, Worcestershire sauce, mustard, garlic, and black pepper in a stock pot. Wisk together.

2. Cook over medium heat for approximately10 minutes, stirring frequently.

CCP: Heat to a minimum internal temperature of 165°F for 1 minute.

CCP: Hold hot at 140 °F.

To Serve:

1. Using tongs, plate one slice of meatloaf. Using  a 1 oz ladle, portion 2 tablespoons sauce over meatloaf slice. Serve immediately.
Recipe Tip
Meatloaf may be made in advance of day of service: After baking, drain off fat. Cover meatloaf, label, date and place in the refrigerator.
CCP: Cool to 70°F within 2 hours, and continue to cool to 40°F or lower within an additional 2 hours.
Slice cooled meatloaf according to directions above on day of service.
Place slices in serving pans, cover pans, and heat in a 350 degree F oven and heat to 165 degrees F for 15 seconds.
Portion size = 1, ¾" slice (1/25 pan).