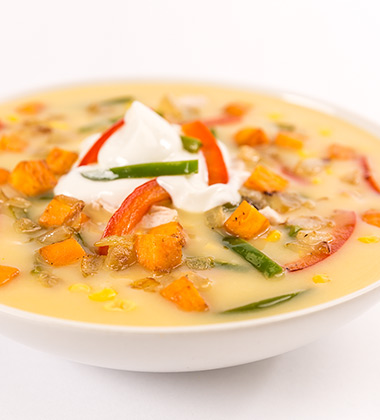 Nutrition Facts
Serving Size
10 FL OZ (SERVED IN 12 FL OZ BOWL)
Amount Per Serving
% Daily Value
Child Nutritional Content
mma: 2.0oz
grain: 0.0oz
totalVegetable: 0.5c
darkGreen: 0.0c
redOrange: 0.125c
legumes: 0.0c
starchy: 0.125c
other: 0.25c
additional: 0.0c
fruit: 0.0c
milk: 0.0c
Campbell's® Healthy Request® Condensed Cream of Chicken Soup combines with chicken, onion, peppers, sweet potatoes, chili powder and sour cream.  Packed with flavor with less than 200 calories per serving.
Recipe Yields:
NOTE: Use your professional judgement when resizing recipes. Seasoning, cooking times, etc, may require adjustment.
estimate your profit
Enter the cost of the soup and any garnishing costs to get the cost per bowl of soup.
Enter the selling price per bowl and your profit for each bowl is calculated based on Step 1.
Enter the number of bowls you typically serve each day and how many days per week you are open (or serve this soup). Profits will be calculated using your numbers from Steps 1 and 2.
| | | |
| --- | --- | --- |
| Ingredients | Weight | Measure |
water

142

fl oz.

cooked diced chicken

100

oz.

chili powder

1 1/2

tbsp.

onion

53

oz.

green pepper

41

oz.

canned sweet potato

43

oz.

frozen whole kernel corn

37

oz.

light sour cream

25

oz.

dried parsley flakes

0.5

oz.
1. Prepare Campbell's Healthy Request Cream of Chicken Soup according to label directions. CCP: Heat to 145°F. CCP: Hold for hot service at 140°F.
2. Toss chicken with chili powder. CCP: Place mixture in serving pans, cover pans, and heat to 165°F. CCP: Hold for hot service at 140°F. Keep chicken covered to keep from drying out.
3. Place the onions, peppers, and sweet potatoes into separate serving pans. Cover pans and steam the vegetables until slightly tender. CCP: Heat to 145°F. Hold for hot service at 140°F.

4. For each serving, portion the following foods/amounts into each serving bowl:
2 oz (1/4 cup or #16 scoop) cooked chicken mixture
2 Tbsp (#30 scoop) cooked onions
2 Tbsp (#30 scoop) cooked peppers
2 Tbsp (#30 scoop) heated sweet potatoes
6 fl oz ladle prepared Campbell's Healthy Request Cream of Chicken Soup

5. Top with 1/2 oz (1 Tbsp) sour cream and a pinch of parsley. Serve immediately.
Recipe Tip
For sweetness, add 3 oz maple syrup to the sour cream.
For Louisana-style flavor, add 2 tbsp Creole seasoning to the prepared soup in step 1.
Any variations to original recipe may alter nutrient analysis.