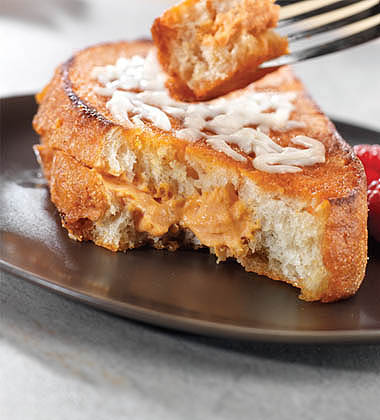 Nutrition Facts
Serving Size
1 SERVING (2 SLICES FRENCH TOAST, EACH SLICE CUT I
Amount Per Serving
% Daily Value
Not your average French toast.  Campbell's® Condensed Tomato Soup combines with low-fat cream and mozzarella cheese and Parmesan cheese for a hearty breakfast option patrons will love!
Recipe Yields:
NOTE: Use your professional judgement when resizing recipes. Seasoning, cooking times, etc, may require adjustment.
estimate your profit
Enter the cost of the soup and any garnishing costs to get the cost per bowl of soup.
Enter the selling price per bowl and your profit for each bowl is calculated based on Step 1.
Enter the number of bowls you typically serve each day and how many days per week you are open (or serve this soup). Profits will be calculated using your numbers from Steps 1 and 2.
| | | |
| --- | --- | --- |
| Ingredients | Weight | Measure |
low fat cream cheese

8

oz.

Parmesan cheese

1.75

oz.

0 1/2

cups

egg yolk

2

ea.

black pepper

0 1/2

tsp.

low fat (1%) milk

0 1/2

cups

egg

16

oz.

8

ea.

black pepper

0 1/2

tsp.

Texas toast bread

34

oz.

24

slices

vegetable oil
part skim mozzarella cheese

6

oz.

1 1/2

cups
To Make Filling:
1. In mixing bowl whisk together cream cheese, Tomato Soup, Parmesan, egg yolks and pepper until smooth. Place in covered container and chill at least 2 hours before using as directed. CCP: Cover and refrigerate to 40° F. or below for later use.
To Make Tomato Custard Mixture:
2.  In a large mixing bowl whisk together Tomato Soup, milk, eggs and pepper until smooth. Reserve.
3. Place chilled filling into a large pastry bag. Slit side of each bread slice to make a pocket. Pipe 2 Tbsp. chilled cream cheese mixture into pocket and pat gently to close.

4. Coat each filled slice of French toast with the tomato custard mixture turning to coat on both sides. Let stand in custard 2-3 minutes.

5. In heavy, non-stick skillet heat oil over medium heat; brown sides of each coated piece of French bread. When browned, place on a greased sheetpan. Heat in 300°F. convection oven for 10 minutes to heat through completely.
6. Sprinkle top of each slice of French toast with 2 Tbsp. shredded Mozzarella and continue to bake 10 minutes or until cheese is melted. CCP: Hold at 140° F. or higher for service.

7. To Serve: Serve each slice of French toast with fresh berries.