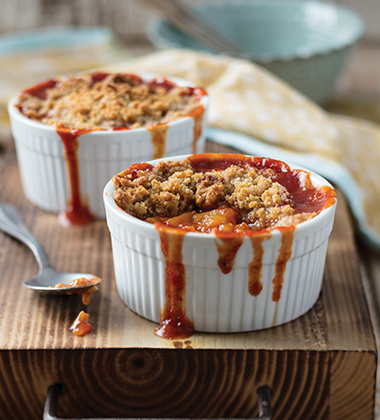 Nutrition Facts
Serving Size
SERVING (#4 SCOOP, 1 CUP)
Amount Per Serving
% Daily Value
Finish any meal on an unforgettable note with this unique dessert, which includes grape tomatoes, peaches and sweet brown sugar crumb topping.
Recipe Yields:
NOTE: Use your professional judgement when resizing recipes. Seasoning, cooking times, etc, may require adjustment.
estimate your profit
Enter the cost of the soup and any garnishing costs to get the cost per bowl of soup.
Enter the selling price per bowl and your profit for each bowl is calculated based on Step 1.
Enter the number of bowls you typically serve each day and how many days per week you are open (or serve this soup). Profits will be calculated using your numbers from Steps 1 and 2.
| | | |
| --- | --- | --- |
| Ingredients | Weight | Measure |
grape tomatoes

12

oz.

2

cups

frozen peach slices

20

oz.

2

cups

nutmeg

0 1/4

tsp.

cinnamon

0 1/4

tsp.

sugar

4

oz.

0 3/4

cups

vegetable cooking spray
sugar

1.25

oz.

0 1/4

cups

brown sugar

3.5

oz.

0 667/1000

cups

kosher salt

0 1/2

tsp.

all-purpose flour

6.5

oz.

1 1/2

cups

butter

6

oz.

0 3/4

cups
To Prepare Tomato/Peach Filling:

1. In a medium size pot filled with boiling water, blanch grape tomatoes for 20 seconds. place in ice bath, remove skins. Reserve.

2. Combine V8® Original Vegetable Juice, peaches, reserved tomatoes, nutmeg, cinnamon and sugar in a sauce pot. Let mixture simmer for 1 hour.  Mixture should have a slightly thick consistency. *

3. Place mixture in a lightly pan sprayed 9x9 casserole dish. Reserve.
To Make Crumb Mixture:

1.In a large mixing bowl, combine sugar, brown sugar, salt, and flour. Mix thoroughly.

2. Add butter.  Work mixture together with hands until very well incorporated and crumbly.

3. Add crumb mixture to the top of the tomato/peach filling.

To Bake and Serve:

1. Bake at 375°F oven for 25-30 minutes.

2.  To Serve: Using a #4 scoop, portion 1 cup into dessert cup/plate.  Serve immediately.
Recipe Tip
*Depending on the water content of the tomatoes & peaches, you may need to add a corn starch slurry. If so add a little at a time.