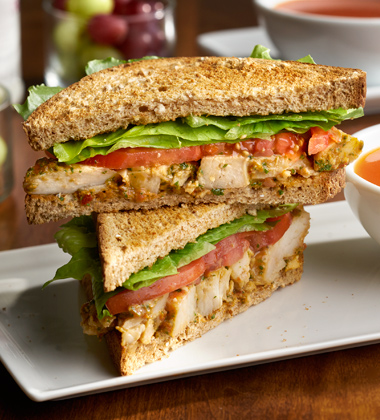 Nutrition Facts
Serving Size
1 SANDWICH (2 SLICES BREAD, 2.26 OZ CHICKEN, 2 TBS
Amount Per Serving
% Daily Value
Child Nutritional Content
mma: 2.0oz
grain: 2.0oz
totalVegetable: 0.5c
darkGreen: 0.0c
redOrange: 0.375c
legumes: 0.0c
starchy: 0.0c
other: 0.25c
additional: 0.0c
fruit: 0.0c
milk: 0.0c
Not just your average chicken sandwich- go from plain to extraordinary. Campbell's® Healthy Request Tomato Soup combines with garlic, kale and basil to compliment Advance Pierre™ Smart Pick Chicken Dippers. 
Recipe Yields:
NOTE: Use your professional judgement when resizing recipes. Seasoning, cooking times, etc, may require adjustment.
estimate your profit
Enter the cost of the soup and any garnishing costs to get the cost per bowl of soup.
Enter the selling price per bowl and your profit for each bowl is calculated based on Step 1.
Enter the number of bowls you typically serve each day and how many days per week you are open (or serve this soup). Profits will be calculated using your numbers from Steps 1 and 2.
| | | |
| --- | --- | --- |
| Ingredients | Weight | Measure |
1. Lightly toast bread in oven. Reserve.
2. In a food processor, combine garlic, pine nuts, basil, kale, pepper, extra virgin olive oil, sun dried tomatoes and Campbells® Healthy Request Tomato Soup. Combine until well blended.

 
3.  In large bowl, combine pesto mixture and chicken.  Toss to coat. 

 
4.  To assemble each sandwich, lay one slice toast on sheet pan.  Using a 3 ounce serving spoon, portion chicken mixture onto each slice of toast. Top each with 3 slices of tomato, 1 lettuce leaf and second slice of toast.  Cut in half diagonally. Serve immediately.

CCP: Hold for cold service at 41°F until needed.
Recipe Tip
Try using this Tomato Pesto to add flavor on sandwiches, pizza and pasta dishes.
Perfectly paired with any variety of Campbell's® Healthy Request® Condensed Soup.
For a complete reimbursable meal, serve with 8 oz. milk and 1 serving of fruit.