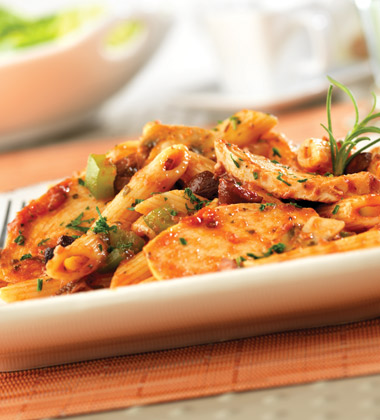 Nutrition Facts
Serving Size
1 SERVING (2 CUP PASTA, VEGETALBES, 3/4 CUP SAUCE)
Amount Per Serving
% Daily Value
Savory roasted chicken breast strips are sautéed with minced garlic, rosemary, Kalamata olives, bell peppers, and button mushrooms. Stir in Prego® Pasta Sauce, toss with cooked penne pasta and top with chopped parsley.
Recipe Yields:
NOTE: Use your professional judgement when resizing recipes. Seasoning, cooking times, etc, may require adjustment.
estimate your profit
Enter the cost of the soup and any garnishing costs to get the cost per bowl of soup.
Enter the selling price per bowl and your profit for each bowl is calculated based on Step 1.
Enter the number of bowls you typically serve each day and how many days per week you are open (or serve this soup). Profits will be calculated using your numbers from Steps 1 and 2.
| | | |
| --- | --- | --- |
| Ingredients | Weight | Measure |
olive oil

2

cups

onion

11

oz.

2

cups

garlic

5

oz.

1

cups

fresh rosemary leaves

3.5

oz.

2

cups

kosher salt

2

tbsp.

pitted kalamata olives

1.5

lb.

5

cups

green pepper

1.5

lb.

4 1/2

cups

mushrooms

1.5

lb.

9 1/2

cups

cooked boneless, skinless chicken breast

6.25

lb.

cooked rotini (spiral) pasta

24

lb.

100

cups

fresh parsley

6

oz.

3

cups
1. Heat olive oil over medium heat.

2. Add onion and cook till tender.

3. Add garlic, rosemary, and salt and cook briefly, 1-2 minutes. Do not brown garlic. CCP: Keep all ingredients, except spices, chilled below 40° in display cooking station.
4. Add olives, peppers, and mushrooms.

5. Cook till vegetables are tender, 3-4 minutes.
6. Add chicken and cook till heated through.

7. Add pasta sauce and rotini pasta and heat through.

8. Portion into pasta bowls and top with chopped parsley. CCP: Keep chicken chilled under 40° prior to use and heat till internal temperature reaches 180°. CCP: Heat sauce till temperature reaches 165° or higher for 15 seconds.
Recipe Tip
Try substituting penne pasta for rotini in this recipe.