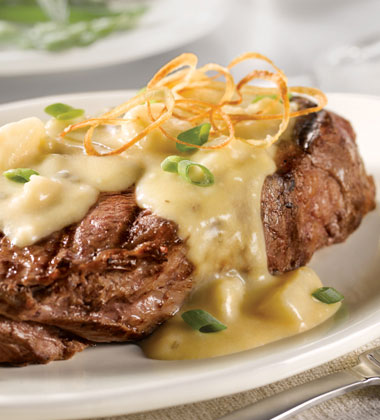 Nutrition Facts
Serving Size
1 SERVING (1 8-0Z STEAK, 1/2 CUP SAUCE)
Amount Per Serving
% Daily Value
Top grilled strip steak with Loaded Baked Potato Soup, sautéed leeks, sour cream and scallions for an indulgent, comforting entrée.
Recipe Yields:
NOTE: Use your professional judgement when resizing recipes. Seasoning, cooking times, etc, may require adjustment.
estimate your profit
Enter the cost of the soup and any garnishing costs to get the cost per bowl of soup.
Enter the selling price per bowl and your profit for each bowl is calculated based on Step 1.
Enter the number of bowls you typically serve each day and how many days per week you are open (or serve this soup). Profits will be calculated using your numbers from Steps 1 and 2.
| | | |
| --- | --- | --- |
| Ingredients | Weight | Measure |
unsalted butter

2

tbsp.

leek

20

oz.

1

qt.

beef strip loin steak

8

lb.

16

ea.

kosher salt

1

pinches

cracked black pepper

1

pinches

sour cream

1

lb.

2

cups

green onion

4

oz.

2

cups
1. In a large skillet, melt butter over medium high heat. Add leeks. Sauté until soft and just starting to brown. Remove from heat and keep warm.
2. Grill or pan-sear seasoned steak to desired doneness.

CCP: Heat to a minimum internal temperature of 158°F for 1 minute.
3. For Each Serving: Transfer each prepared steak to a hot plate. Top each with 1oz./2 Tbsp. sour cream and 1/4 cup/2 oz. sautéed leeks.

4. Using a 4 oz. ladle, top with 1/2 cup of Campbell's Loaded Baked Potato Soup. Garnish with 2 Tbsp. sliced scallions. Serve immediately.