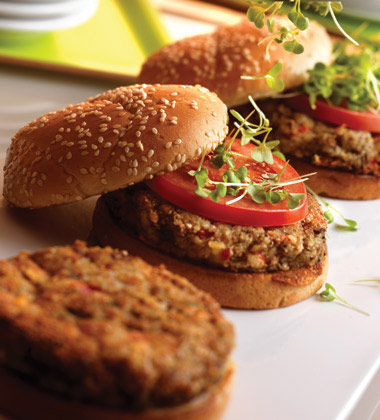 Nutrition Facts
Serving Size
1 EACH (4 OZ BURGER)
Amount Per Serving
% Daily Value
Mushroom soup blends perfectly with sauteed mushrooms and vegetables along with brown rice and shaped and baked for a rich, elegant but easy veggie burger.
Recipe Yields:
NOTE: Use your professional judgement when resizing recipes. Seasoning, cooking times, etc, may require adjustment.
estimate your profit
Enter the cost of the soup and any garnishing costs to get the cost per bowl of soup.
Enter the selling price per bowl and your profit for each bowl is calculated based on Step 1.
Enter the number of bowls you typically serve each day and how many days per week you are open (or serve this soup). Profits will be calculated using your numbers from Steps 1 and 2.
| | | |
| --- | --- | --- |
| Ingredients | Weight | Measure |
vegetable oil

2

tbsp.

Vidalia onion

1.25

lb.

1

qt.

garlic

0 1/4

cups

carrot

12

oz.

2

cups

mushrooms

1.5

lb.

3

qt.

celery salt

1

tbsp.

ground sage

0 1/2

tsp.

black pepper

1

tsp.

cholesterol-free egg substitute

6

oz.

0 3/4

cups

roasted red bell pepper

3.5

oz.

0 1/2

cups

Worcestershire sauce

0 1/4

cups

fresh parsley

0 1/4

cups

brown rice

1.5

lb.

3

cups

bread crumbs

9

oz.

3

cups

vegetable cooking spray
whole grain hamburger roll

24

ea.
1. In large skillet, heat oil over medium-high heat; add onion and sauté 6-7 minutes or until caramelized slightly. Stir in garlic and continue cooking 2 minutes.

2. Add carrots and continue cooking, stirring often, 5 minutes.

3. Stir in mushrooms and cook, stirring often, until dry, about 8-10 minutes. Mix in seasonings and cook 1 minute. Remove from heat and cool to room temperature. Cover and chill completely before continuing. CCP: Refrigerate below 40°F.
4. In large bowl mix onion-mushroom mixture and egg well.
5. Stir in Soup, pimiento, Worcestershire sauce and parsley to mushroom mixture and mix well.
6. Stir in rice and crumbs and mix well. Cover and refrigerate.CCP: Refrigerate below 40°F. at least 4 hours before using as directed.
7. Portion, using a #8 scoop (1/2-cup/4-oz.), shape into 24 4-in. x 1/2-in. patties.

8. Grill patties on an oiled grill top over a medium-high fire or heat, about 5-6 minutes per side. Remove from grill or oven and place on a sheetpan sprayed with non-stick spray and bake in a 350°F. conventional or 300°F. convection oven for 15-20 minutes.**CCP: Cook to an internal temperature of 140°F. or higher for 15 seconds.** Or scoop mushroom burger batter onto an oiled sheetpan and roast in a 400°F convection oven for 35-40 minutes, flipping half-way through the cooking time until browned and crisp.
9. For each portion, serve one burger between one splite hamburger roll.