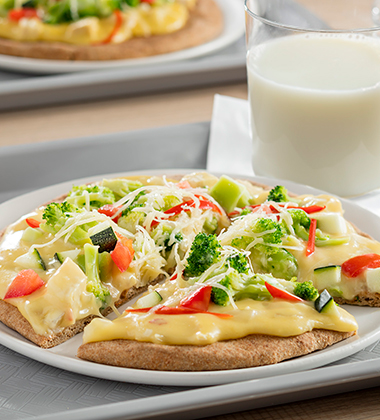 Nutrition Facts
Serving Size
SERVING (INDIVIDUAL PIZZA)
Amount Per Serving
% Daily Value
Child Nutritional Content
mma: 2.0oz
grain: 2.0oz
totalVegetable: 0.625c
darkGreen: 0.5c
redOrange: 0.0c
legumes: 0.0c
starchy: 0.0c
other: 0.125c
additional: 0.0c
fruit: 0.0c
milk: 0.0c
Campbell's® Healthy Request® Cream of Chicken Soup and cheese creates the base sauce on a whole grain pita topped with diced chicken and broccoli. Be creative and add a variety of vegetable toppings.
Recipe Yields:
NOTE: Use your professional judgement when resizing recipes. Seasoning, cooking times, etc, may require adjustment.
estimate your profit
Enter the cost of the soup and any garnishing costs to get the cost per bowl of soup.
Enter the selling price per bowl and your profit for each bowl is calculated based on Step 1.
Enter the number of bowls you typically serve each day and how many days per week you are open (or serve this soup). Profits will be calculated using your numbers from Steps 1 and 2.
| | | |
| --- | --- | --- |
| Ingredients | Weight | Measure |
vegetable oil

2

tbsp.

onion

15

oz.

3

cups

dried red pepper

0 1/4

tsp.

water

2

cups

cooked diced chicken

16

oz.

2 1/2

cups

part skim mozzarella cheese

16

oz.

5

cups

garlic powder

1

tsp.

vegetable cooking spray
black pepper

1

tsp.

whole grain pita bread

32

oz.

16

ea.

frozen chopped broccoli

32

oz.

8

cups

Parmesan cheese

1

oz.

0 1/2

cups
1. In saucepan, heat oil over medium-high heat. Add onions. Sauté for 5 minutes , or until onions begin to brown.

2. Stir in red pepper flakes. Continue to cook 1 minute.

3. Add Campbell's® Healthy Request® Cream of Chicken Soup and water. Bring to a simmer over medium heat. Cook for 2 minutes.

4. Stir in chicken, Mozzarella, garlic powder and ground pepper. Mix well. Reserve.

CCP: Heat to a minimum internal temperature of 165°F for 1 minute.

CCP: Hold for hot service at 140°F or higher until needed.
4. Spray baking sheets with non-stick cooking spray.

5. To assemble each pizza, place pitas on a clean, flat surface and top with the following:
1/2 cup (4 ounce ladle) prepared chicken-cheese sauce. In a circular motion, spread to cover entire top evenly.
 1/2 cup (#8 scoop) broccoli 
1 teaspoon Parmesan cheese

6. Bake at 400°F. for 10- 15 minutes, or until cheese melts and pizza is heated thoroughly.

CCP: Hold for hot service at 140°F or higher until needed.

7. Cut each pizza cut into 4 slices. Plate. Serve immediately.
Recipe Tip
Vegetable topping ideas: tomatoes, zucchini, yellow squash, caramelized onions, baby spinach, peppers.