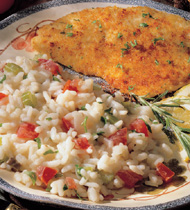 Nutrition Facts
Amount Per Serving
% Daily Value
A perfect creamy side dish that compliments a variety of entrees.  This Zesty Risotto combines flavors from tomatoes, onion, rice, and Parmesan cheese combine with Swanson® Natural Goodness® Chicken Broth and Campbells® Condensed Cream of Mushroom Soup.
Recipe Yields:
NOTE: Use your professional judgement when resizing recipes. Seasoning, cooking times, etc, may require adjustment.
estimate your profit
Enter the cost of the soup and any garnishing costs to get the cost per bowl of soup.
Enter the selling price per bowl and your profit for each bowl is calculated based on Step 1.
Enter the number of bowls you typically serve each day and how many days per week you are open (or serve this soup). Profits will be calculated using your numbers from Steps 1 and 2.
| | | |
| --- | --- | --- |
| Ingredients | Weight | Measure |
olive oil

3

tbsp.

Vidalia onion

1 1/2

qt.

garlic

0 1/4

cups

celery

1 1/2

qt.

short grain white rice

5

lb.

2 1/2

qt.

water

2 1/2

cups

ground white pepper

1 1/2

tsp.

tomato

1

qt.

Parmesan cheese

3

cups

fresh Italian parsley

1

cups
1. In large pot or rondo, heat oil over medium-high heat; add onion and sauté 5-6 minutes, or until slightly golden and tender. Add garlic and continue cooking 2 minutes, stirring often.

2. Add celery and continue cooking 5 minutes or until tender.
3. Stir in rice and cook, stirring often (to prevent scorching), until coated and heated through, about 5-6 minutes.

4. Add heated broth and bring to a boil, stirring often. Reduce heat. Cook 20 minutes, stirring often, until liquid is absorbed and rice is tender but chewy.
5. Stir in soup, water and pepper and cook 10 minutes, stirring often to prevent scorching.
6. Stir in tomatoes, cheese and parsley and heat through. CCP: Heat to an internal temperature of 165°F. or higher for 15 seconds. CCP: Hold hot at 140°F or higher for service.

7. To Serve: Portion out 1 cup (2 x #8 scoops) per serving.