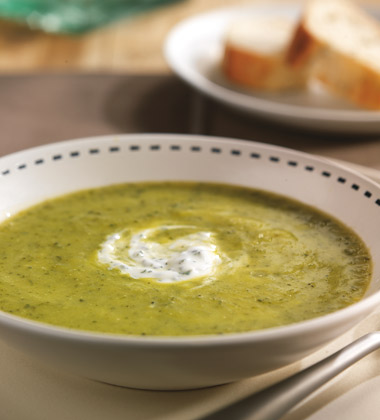 Nutrition Facts
Serving Size
1 CUP (8 OZ LADEL)
Amount Per Serving
% Daily Value
It takes less than one hour to make this smooth and creamy zucchini soup made with Swanson® Unsalted Chicken Broth, served with a dollop of flavorful herbed cream.
Recipe Yields:
NOTE: Use your professional judgement when resizing recipes. Seasoning, cooking times, etc, may require adjustment.
estimate your profit
Enter the cost of the soup and any garnishing costs to get the cost per bowl of soup.
Enter the selling price per bowl and your profit for each bowl is calculated based on Step 1.
Enter the number of bowls you typically serve each day and how many days per week you are open (or serve this soup). Profits will be calculated using your numbers from Steps 1 and 2.
| | | |
| --- | --- | --- |
| Ingredients | Weight | Measure |
sour cream

2

lb.

1

qt.

fresh basil leaves

2

oz.

0 667/1000

cups

fresh oregano leaves

1.5

oz.

0 667/1000

cups

olive oil

1

cups

onion

43

oz.

2

qt.

garlic

8

cloves

zucchini

14

lb.

32

ea.

black pepper

2

tsp.
1. Stir the sour cream, 1 Tbsp + 1 tsp of the basil and 1 Tbsp + 1 tsp of the oregano in a large bowl. Cover and refrigerate.

CCP: Refrigerate at 41 °F (5 °C) or lower.
2. Heat the oil in a kettle over medium heat. Add the onion and garlic until tender. Add the zucchini and black pepper. Cook for 5 minutes or until the zucchini is tender.

CCP: Hold hot at 140 °F.
3. Add the broth, and the remaining basil and oregano. Heat to a boil. Reduce heat to low. Cover and cook for 15 minutes.

CCP: Hold hot at 140 °F.

4. Place 1/3 of the zucchini mixture into a blender or food processor. Cover and blend until smooth. Pour the mixture into a large bowl. Repeat blending process twice more with the remaining zucchini mixture. Return all of the pureed mixture to the stockpot. Cook over medium heat for five minutes or until hot.

CCP: Hold hot at 140 °F.

5. Serve 1 ¼ cup soup with 1 Tbsp sour cream mixture, using a spoon to swirl the cream in a decorative pattern on the soup surface.

CCP: Hold for hot service at 140 °F.
Recipe Tip
Pair with Garlic Grilled Chicken and 1/2 cup of cherries for a meal under 500 calories.
Substitute fat free sour cream for a recipe that meets Partnership for a Healthier America nutrition standards (a la carte side dish).
Substitute any vegetable for zucchini to make a delicious, healthy soup that you and your patrons will love!