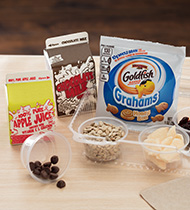 Nutrition Facts
Serving Size
SERVING (SEE INSTRUCTIONS)
Amount Per Serving
% Daily Value
Child Nutritional Content
mma: 1.0oz
grain: 1.0oz
totalVegetable: 0.0c
darkGreen: 0.0c
redOrange: 0.0c
legumes: 0.0c
starchy: 0.0c
other: 0.0c
additional: 0.0c
fruit: 1.0c
milk: 1.0c
Try Goldfish® Grahams Breakfast Combo to help kids start their day at 100%! This morning trail mix made Goldfish® Grahams Baked with Whole Grain Honey Bun is the perfect sweet and savory combo, reimbursable and can be packaged into a convenient grab-and-go format.
Recipe Yields:
NOTE: Use your professional judgement when resizing recipes. Seasoning, cooking times, etc, may require adjustment.
estimate your profit
Enter the cost of the soup and any garnishing costs to get the cost per bowl of soup.
Enter the selling price per bowl and your profit for each bowl is calculated based on Step 1.
Enter the number of bowls you typically serve each day and how many days per week you are open (or serve this soup). Profits will be calculated using your numbers from Steps 1 and 2.
| | | |
| --- | --- | --- |
| Ingredients | Weight | Measure |
dried cherries

0.688

oz.

0 1/8

cups

dried apple

0 1/8

cups

chocolate chips

1

tsp.

unsalted sunflower seeds

1

oz.

fat free chocolate milk

8

fl oz.

apple juice

4

fl oz.
Pair

Goldfish

® Grahams Baked with Whole Grain Honey Bun (1 oz grain equivalence) with 1/8 cup of dried cherries, 1/8 cup of dried apples, 1 tsp. of chocolate chips, 1 oz of sunflower seeds, 4 oz 100% apple juice and 8 oz of non-fat chocolate milk to form a reimbursable breakfast. Packaging it all the elements into a disposable container to make it a grab-and-go option.
Recipe Tip
Can substitute sunflower butter with peanut butter.