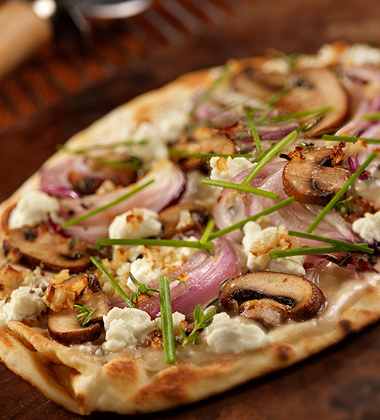 Nutrition Facts
Serving Size
1 TOPPED FLATBREAD
Amount Per Serving
% Daily Value
Try our Mushroom & Goat Cheese Pizza served on flatbread and made with Campbell's® Condensed Cream of Mushroom Soup.  Substitute your traditional pizza sauce for our Cream of Mushroom Soup for a delicious, rich and flavorful pizza that everyone will love.
Recipe Yields:
NOTE: Use your professional judgement when resizing recipes. Seasoning, cooking times, etc, may require adjustment.
estimate your profit
Enter the cost of the soup and any garnishing costs to get the cost per bowl of soup.
Enter the selling price per bowl and your profit for each bowl is calculated based on Step 1.
Enter the number of bowls you typically serve each day and how many days per week you are open (or serve this soup). Profits will be calculated using your numbers from Steps 1 and 2.
| | | |
| --- | --- | --- |
| Ingredients | Weight | Measure |
vegetable oil

2

tbsp.

red onion

20

oz.

3 1/2

cups

garlic

1 1/2

tbsp.

Parmesan cheese

1 1/2

cups

fresh thyme leaves

1 1/2

tbsp.

flatbread

12

ea.

crimini mushroom

6

oz.

2 333/1000

cups

goat cheese

20

oz.

Parmesan cheese

1 1/2

cups

cracked black pepper

1

tbsp.

chives

1

cups

fresh thyme leaves

0 1/2

cups
1. Heat oil in a sauté pan over medium-high heat; add onions and garlic and sauté 6-8 minutes or until golden brown. Cool to room temperature. Hold.

2. In a large bowl combine soup, onion-garlic mixture, cheese and thyme and mix well. Cover and refrigerate until ready to use.
3. To Prepare: For each pizza, lay out flatbread on clean, flat surface. Spread each flatbread with 1/2 cup soup-onion mixture. Top each pizza with sautéed mushrooms, 1-1/2 oz. goat cheese and cracked black pepper.

4. To Serve: Bake pizzas in a pre-heated 425ºF. conventional or 375°F. convection oven 8-12 minutes or until golden brown and bubbly. Quarter pizzas and serve with green salad.
5. For Garnish: Top with fresh chives and fresh thyme leaves.