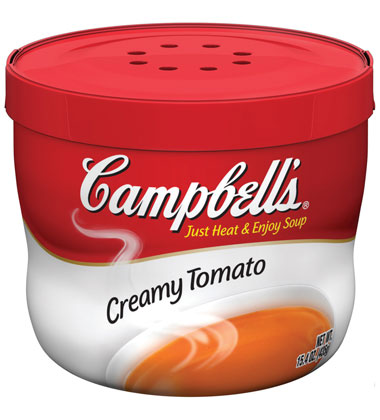 Nutrition Facts
Amount Per Serving
% Daily Value
* Percent Daily Values are based on a 2,000 calorie diet.
Nutrition Facts are based on our current data. However, because the data may change from time to time, this information may not always be identical to the Nutrition Facts table found on the labels of products.
Formula effective date: 09/20/2018
Information is true and accurate as of: 08/10/2018
Ingredients
INGREDIENTS: TOMATO PUREE (WATER, TOMATO PASTE), WATER, HIGH FRUCTOSE CORN SYRUP, WHEAT FLOUR, VEGETABLE OIL (CORN, CANOLA, AND/OR SOYBEAN), CONTAINS LESS THAN 2% OF: SKIM MILK, CREAM**, SALT, POTASSIUM CHLORIDE, SOY PROTEIN CONCENTRATE, FLAVORING, CITRIC ACID, ASCORBIC ACID (VITAMIN C), MONOPOTASSIUM PHOSPHATE, SUNFLOWER LECITHIN, BUTTER (CREAM, ANNATTO), CREAM (CREAM, SOY LECITHIN)**, BUTTER (CREAM, SALT)**, BUTTERMILK, ENZYME MODIFIED BUTTER, WHEY PROTEIN CONCENTRATE, CELERY EXTRACT, XANTHAN GUM, WHEY, SOY LECITHIN, MILKFAT, GARLIC OIL. **DEHYDRATED
Allergens
MILK
SOY
WHEAT
Your favorite classic Campbell's soups are there for you anytime, at your desk and on the go!
Features And Benefits
This product is perfect for vending, a-la-carte sales, and boxed lunches.
Preparation
Microwave for 1 min. 45 sec. Leave in microwave for 1 min. Stir and enjoy.
Handling
FOLLOW DIRECTIONS ON PACKAGE
Storage
Shelf Life: 14 MONTHS
Storage Temperature: 70 °F
Serving Ideas
Serve with a sandwich or salad for a quick and easy meal.
More
This product is perfect for vending, a-la-carte sales, and boxed lunches.
Packaging Details
Case Size:
17 INx 8.5INx 3.375IN
(L x W x H)
Other Information
For more information on our products, contact your distributor or call 1-800-879-7687.
Supporting Materials
To find out more about our merchandising and point of sale options, contact your Campbell's representative or call (800) TRY-SOUP (879-7687) and ask about how your operation can benefit from our support.