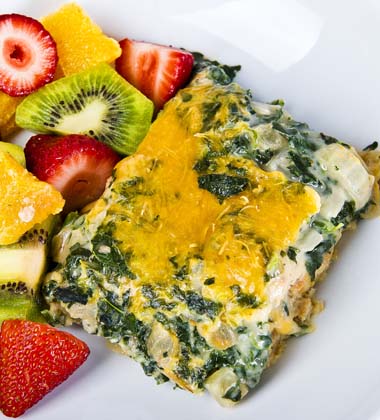 Nutrition Facts
Amount Per Serving
% Daily Value
Try our new twist on breakfast with our cheesy casserole made with Campbell's® Healthy Request Cream of Mushroom Soup.  With les than 200 calories per serving, this casserole is perfect for large groups or parties.
Recipe Yields:
NOTE: Use your professional judgement when resizing recipes. Seasoning, cooking times, etc, may require adjustment.
estimate your profit
Enter the cost of the soup and any garnishing costs to get the cost per bowl of soup.
Enter the selling price per bowl and your profit for each bowl is calculated based on Step 1.
Enter the number of bowls you typically serve each day and how many days per week you are open (or serve this soup). Profits will be calculated using your numbers from Steps 1 and 2.
| | | |
| --- | --- | --- |
| Ingredients | Weight | Measure |
vegetable cooking spray
hash brown potatoes

2

lb.

2

qt.

vegetable oil

1

tbsp.

Vidalia onion

30

oz.

1 1/2

qt.

frozen spinach

2

lb.

1

qt.

low fat (1%) milk

3

cups

cholesterol-free egg substitute

3

cups

ground red pepper

0 1/2

tsp.

paprika

1

tsp.

low fat Cheddar cheese

20

oz.

5

cups
1. Spray bottom of a full-size (12 x 20 x 3-in.) hotel pan. Spread potatoes into an even layer in bottom of pan. Hold.
2. In large skillet or rondo, heat oil over medium-high heat; add onions and cook 6 minutes, stirring often.

3. Stir in spinach. Remove from heat and cool to room temperature. Hold.
4. In large bowl whisk together Mushroom Soup, milk, eggs, paprika and pepper until smooth. Hold.
5. Sprinkle half of the cheese over top of potatoes and then evenly spread spinach mixture to cover the cheese. Pour egg custard evenly over top of spinach layer. Top with remaining cheese. Cover and refrigerate at least 60 minutes or over night before baking.

6. Bake 350°F. conventional or 300°F. convection oven for 35-40 minutes, or until crisp on top and firm to the touch. Remove from heat and cool at least 10 minutes before dishing up to serve. CCP: Cook to an internal temperature of 145°F. or higher for 15 seconds. CCP: Hold hot at 140°F or higher for service.

7. To Serve: For each serving, spoon 1 1/4-cup serving and serve with fruit, if desired.
Recipe Tip
Serve with cut fresh fruit on the side