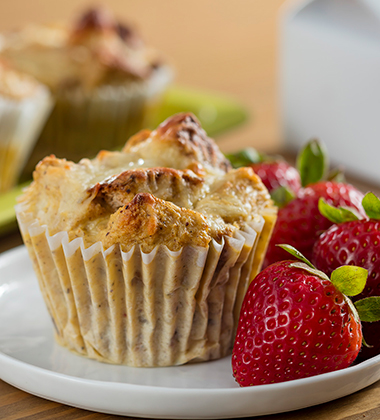 Nutrition Facts
Serving Size
SERVING (1 MUFFIN)
Amount Per Serving
% Daily Value
Child Nutritional Content
mma: 1.5oz
grain: 0.5oz
totalVegetable: 0.0c
darkGreen: 0.0c
redOrange: 0.0c
legumes: 0.0c
starchy: 0.0c
other: 0.0c
additional: 0.0c
fruit: 0.0c
milk: 0.0c
Perfect To-Go breakfast... creamy chicken custard made with Campbell's® Healthy Request® Cream of Chicken Soup, diced whole grain bread, mozzarella cheese and turkey sausage.
Recipe Yields:
NOTE: Use your professional judgement when resizing recipes. Seasoning, cooking times, etc, may require adjustment.
estimate your profit
Enter the cost of the soup and any garnishing costs to get the cost per bowl of soup.
Enter the selling price per bowl and your profit for each bowl is calculated based on Step 1.
Enter the number of bowls you typically serve each day and how many days per week you are open (or serve this soup). Profits will be calculated using your numbers from Steps 1 and 2.
| | | |
| --- | --- | --- |
| Ingredients | Weight | Measure |
ground turkey sausage

12

oz.

onion

10

oz.

2

cups

ground sage

1

tsp.

dried red pepper

0 1/4

tsp.

whole milk

2

cups

pasteurized liquid egg

32

oz.

4

cups

whole-grain bread

20

slices

part skim mozzarella cheese

8

oz.

2

cups
1. In a soup pot, cook sausage and onions over medium heat for 5 minutes. Stir often to break apart the sausage into tiny pieces. Stir in sage and pepper flakes. Continue to cook until mixture is browned thoroughly.
2. Whisk in Campbell's® Healthy Request® Cream of Chicken Soup and milk into sausage mixture. Bring to a simmer over medium heat. Cook for 5 minutes. Remove from heat. Cool for minimum of 20 minutes, stirring often.
 
3. In a small bowl, beat eggs with whisk or fork.  Add the cooled soup mixture.  Wisk until smooth and incorporated. Reserve.

 
4. Mix dried bread cubes and 1 cup shredded cheese into cooled casserole base. Toss until thoroughly mixed.

5. Scoop 1/2 cup mixture into 32 (6-oz.) muffin tins or cups. Top each casserole muffin with 1/2 tablespoon shredded cheese.

6. Bake in 375°F. oven for 40 minutes, or until firm and golden on top. Remove from heat.

CCP: Heat to a minimum internal temperature of 165°F for 1 minute.
CCP: Hold for hot service at 140°F or higher until needed.

7. To Serve: Plate or package 1 muffin per serving. Serve immediately.


 
Recipe Tip
 

Casserole mixture may be made in 2 shallow half-hotel pans, 2 qt. base per pan. Bake 35 minutes.


 
Per USDA, schools may substitute a meat/meat alternate in place of part of the grain component after the minimum of 1 oz. daily requirement is met. A 1 ounce equivalent (oz. eq.) of meat/meat alternate may credit as 1 oz. eq. of grains.