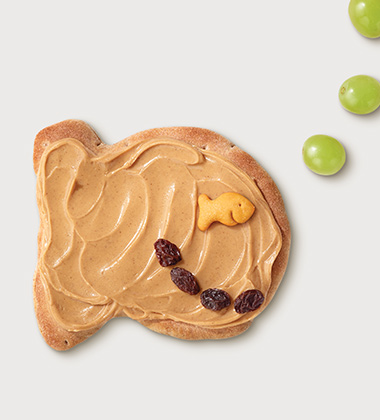 Nutrition Facts
Amount Per Serving
% Daily Value
Child Nutritional Content
mma: 1.0oz
grain: 1.0oz
totalVegetable: 0.0c
darkGreen: 0.0c
redOrange: 0.0c
legumes: 0.0c
starchy: 0.0c
other: 0.0c
additional: 0.0c
fruit: 0.0c
milk: 0.0c
100% Whole Grain Goldfish bread is topped with sunflower butter, a crunchy Goldfish Cheddar cracker eye and a raisin smile, plus juicy grape bubbles.
Recipe Yields:
NOTE: Use your professional judgement when resizing recipes. Seasoning, cooking times, etc, may require adjustment.
estimate your profit
Enter the cost of the soup and any garnishing costs to get the cost per bowl of soup.
Enter the selling price per bowl and your profit for each bowl is calculated based on Step 1.
Enter the number of bowls you typically serve each day and how many days per week you are open (or serve this soup). Profits will be calculated using your numbers from Steps 1 and 2.
| | | |
| --- | --- | --- |
| Ingredients | Weight | Measure |
sunflower seed butter

6

cups

raisins

0 1/4

cups

red or green seedless grapes

2 3/8

cups
To offer on your menu as pre-assembled items for easy pick up on a serving line (refer to recipe photo):

1. Arrange 24 plates on a large tray for assembly.
2. On each plate, lay out 24 unsplit Honey Whole Wheat Goldfish Bread, smile side up.
3. Using a #30 scoop, portion 2 Tbsp. of sunflower seed butter on the top of each bread portion, and spread the sunflower seed butter evenly over the surface of the bread using a knife or the back of the portion scoop.
4. Place 1 Goldfish cracker and 4 raisins on top of each topped portion of bread to create an eye and a smile.
5. Put 3 grapes on the plate near the mouth of each Golfish to make the bubbles.
6. CCP: Serve immediately, or cover and refrigerate at 41 degrees F until served.

To offer on your menu so students can assemble the menu item themselves:

1. Place small serving plates on sheet pans.
2. Put one whole portion of Goldfish Bread (unsplit) on each plate.
3. Use a #30 scoop to portion 2 tbsp of sunflower seed butter next to the bread on each plate.
4. Add 1 Goldfish cracker, 4 raisins, and 3 grapes to each plate.
5. Provide plastic utensil students can use to spread their sunbutter on their bread.
6. CCP: Serve immediately, or cover sheet trays with paper and hold for cold service at 41 degrees F or lower until served.
7. Post a picture of an assembled menu item OR display a sample assembled Sunflower Butter Sammie on your serving line to inspire students to create their own.
Recipe Tip
24 pieces of Goldfish WG crackers = about 1/2 oz.
3/4 cup (6 oz weight) grapes = about 72 grapes.
1/4 cup (1.75 oz weight) raisins = about 96 raisins.
As prepared, Sunflower Butter Sammie, may be offered as a reimbursable after school snack and will meet all required meal components for the snack.
For a complete reimbursable breakfast for grades K-5, offer this menu idea with 1 cup fruit, and 8 oz of milk.
For a complete reimbursable lunch for grades K-5, offer this menu idea with 1/2 cup fruit, 3/4 cup vegetables, and 8 oz of milk.
One servings provides 1 oz equiv grains and 1 oz meat/meat alternate.