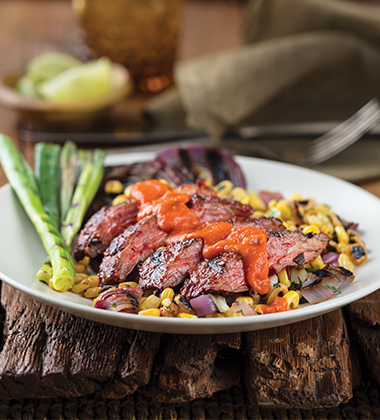 Nutrition Facts
Serving Size
SERVING (5 OZ STEAK + 1/3 C RELISH + 1/4 C SAUCE)
Amount Per Serving
% Daily Value
A traditional Mexican must-have, this dish is made with marinated steak garnished with corn relish and ancho chili tomato sauce.
Recipe Yields:
NOTE: Use your professional judgement when resizing recipes. Seasoning, cooking times, etc, may require adjustment.
estimate your profit
Enter the cost of the soup and any garnishing costs to get the cost per bowl of soup.
Enter the selling price per bowl and your profit for each bowl is calculated based on Step 1.
Enter the number of bowls you typically serve each day and how many days per week you are open (or serve this soup). Profits will be calculated using your numbers from Steps 1 and 2.
| | | |
| --- | --- | --- |
| Ingredients | Weight | Measure |
beef skirt steak

3

lb.

48

kosher salt

1

tsp.

black pepper

0 1/2

tsp.

ancho chili powder

1

tbsp.

olive oil

1

tbsp.

onion

9

oz.

2

cups

garlic

1

oz.

1 1/2

tbsp.

whole roasted tomatoes

16

oz.

2

cups

ancho chili powder

1

tbsp.

black pepper

0 1/8

tsp.

frozen roasted corn

10.5

oz.

2

cups

red onion

7

oz.

1 1/4

cups

lime juice

0 1/4

cups

olive oil

1

tbsp.

kosher salt

0 1/4

tsp.

black pepper

0 1/8

tsp.

green onion

1.75

oz.

0 1/4

cups
To Prepare Steak:

1. Season steak with salt, pepper and ground ancho pepper. Marinate for 1 hour in refrigerator.

2. Cook steak on a hot grill to desired temperature.

CCP: Heat to a minimum internal temperature of 158°F for 1 minute.

 
To Prepare Tomato Sauce:

1. In a medium size pot heat olive oil.  Sauté onions and garlic. Cook for 5 minutes.

2. Add V8® Spicy Hot Vegetable Juice and tomatoes. Simmer for 25 minutes on low heat.

3. Add ground ancho pepper and black pepper. Let simmer for 10 more minutes.

4. Puree mixture in blender until smooth. Reserve.

CCP: Hold for hot service at 140°F or higher until needed.

.
To Prepare Corn Relish:

1. In a medium mixing bowl, add roasted corn, diced grilled red onions, lime juice, olive oil, salt, pepper. Mix thoroughly. Reserve.

 
To Serve:

1. Using a #12 scoop, portion 1/3 cup corn relish in center of round dinner plate. 

2. Using tongs, top with 1 steak (about 4.5 ounces).

3. Using a 2-oz. ladle, drizzle ¼ cup sauce around dish. 

4. Using a scant # 100 scoop, garnish with about 1-1/2 teaspoons grilled onions. Serve immediately
Recipe Tip
48 ounces raw beef used in recipe.