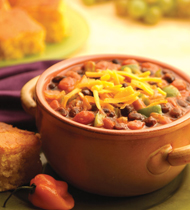 Nutrition Facts
Serving Size
SERVING (1 CUP; 8 OZ LADLE)
Amount Per Serving
% Daily Value
Child Nutritional Content
mma: 2.5oz
grain: 0.0oz
totalVegetable: 1.0c
darkGreen: 0.0c
redOrange: 0.625c
legumes: 0.0c
starchy: 0.0c
other: 0.375c
additional: 0.0c
fruit: 0.0c
milk: 0.0c
Add some heat to your K-12 menu with this vegetarian chili made with 
a perfect combination of vegetables, beans, spices, and Low Sodium V8® 100% Vegetable Juice.
Recipe Yields:
NOTE: Use your professional judgement when resizing recipes. Seasoning, cooking times, etc, may require adjustment.
estimate your profit
Enter the cost of the soup and any garnishing costs to get the cost per bowl of soup.
Enter the selling price per bowl and your profit for each bowl is calculated based on Step 1.
Enter the number of bowls you typically serve each day and how many days per week you are open (or serve this soup). Profits will be calculated using your numbers from Steps 1 and 2.
| | | |
| --- | --- | --- |
| Ingredients | Weight | Measure |
vegetable oil

4

oz.

0 1/2

cups

onion

16

oz.

4

cups

green pepper

12

oz.

2

cups

carrot

8

oz.

1 3/4

cups

chili powder

3

tbsp.

garlic powder

1

tbsp.

cumin

1

tbsp.

red wine vinegar

0 1/4

cups

low sodium black beans

48

oz.

5 667/1000

cups

low sodium pinto beans

48

oz.

5 667/1000

cups

Cheddar cheese

4.5

oz.

1 1/8

cups
1. Heat oil in saucepot. Add onion, pepper, carrots, garlic, chili powder and cumin. Cook until vegetables are tender.

2. Add  Low Sodium V8® Vegetable Juice. Heat to a boil. Cover. Cook over low heat for 5 minutes.
3. Add un-drained beans. Heat through.

CCP: Heat until internal temperature is 165ºF or higher for 15 seconds.

4.  To serve, using an 8 oz. ladle, portion 1 cup into bowl.  Top with 1 tablespoon (1/4 oz.) cheese. Serve immediately.

CCP: Hold at 140ºF or higher.

*Child Nutrition Contribution Table indicates beans counted as meat/meat alternate.
**See tip section for beans counting as vegetable component.

 
Recipe Tip
Great served as a topping for:

Baked White or Sweet Potato
Nachos
Salad
Rice
Cornbread Muffin

**Components if beans in recipe are counted as vegetable:

M/MA (oz): 0.00
Grain (oz equiv): 0.00
Total Vegetable (c): 1.625

Dark Green (c): 0.00

Legumes (c): 0.625

Starchy (c): 0.00
Red/Orange (c): 0.625
Other (c): 0.375
Additional (c): 0.00

Fruit (c): 0.00
Milk (c): 0.00